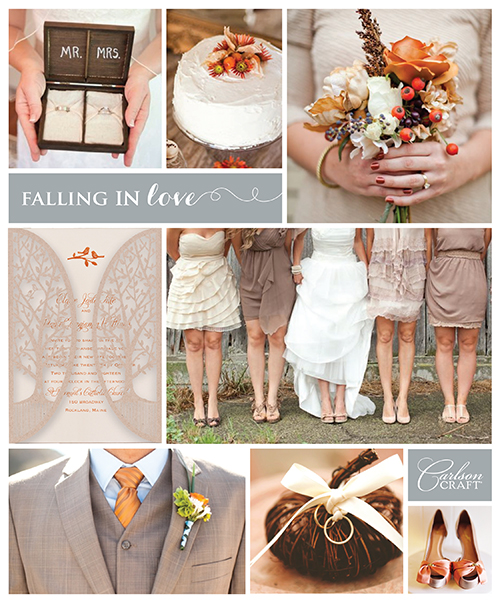 Having a fall wedding but want to stay away from the full-on rustic look, dark colors and heavy fabrics? How romantic!
We've noticed that fall weddings are getting softer – in colors, fabrics, styles and even flowers. And we love the look so much.
Here are some of our ideas for a romantic fall wedding look that's perfectly you.
First, the colors. Light mocha brown. Dusty pinks. Deep creams. Delicate taupes. A touch of light orange. These are a far cry from the bold jewel tones and deep browns you usually see in an autumn wedding.
Display these colors in lighter, ruffled fabric for your dress. No velvets, no heavy satins, no taffeta. Give bridesmaids a color palette and have them mix it up with their own style for dresses and shoes. For an elegant pop of color, wear gold or taupe shoes with soft ribbons in a beautiful shade of fall. Tell the guys to forget the tuxes – crisp linen suits are more in keeping with your day.
Also choose flowers in softer fall colors, like lighter shades of orange, brown and gold. Make your natural accents like seed pods, berries and foliage stand out with smaller bouquets. And top your wedding cake with a few pretty fall posies like asters or dahlias.
Set the tone for the celebration with the perfect invitation. Our Enchanted Garden Invitation will welcome guests with warm papers and a unique, die-cut wrap.
Then get creative. A wooden box or a handmade velvet pumpkin to display your rings will be the perfect finishing touch.
Want to see more? Click Here For Invitations, Accessories & More
images: rusticweddingchic.com, omgcutethings.com, jaclynjourney.com, carolynbentumphotographyblog.com, ahandcraftedwedding.com, bridesmaidsandblooms.blogspot.com